About Jennifer Zunikoff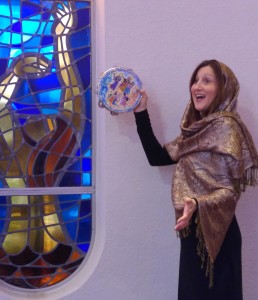 Jennifer Rudick Zunikoff is a storyteller, poet, educator, facilitator, and coach. She is the founder and director of The Golden Door: Storytelling for Social Justice, and organization that brings storytellers and facilitators to schools to coach teachers, educate students, and build safe, encouraging classroom communities. Jennifer was named a 2016 Baltimore Social Innovator by the Warnock Foundation.
For the past five years, Jennifer directed Storyteller Teaching Training project at Krieger Schechter Day School, empowering teachers to use storytelling to teach their curriculum and to build leadership skills in their students.
Jennifer co-taught the Oral Histories of Holocaust Survivors course at Goucher College from 2004-2013. She individually coached more than 100 students throughout the 10 years of the course. She performs and teaches at schools, camps, synagogues, and for Jewish organizations. Her CD, The Growing Season, comprised of her original stories, was commissioned by the Macks Center for Jewish Education.
When storyteller Jennifer Rudick Zunikoff performs, biblical figures speak, rabbinic Midrash leaps off the pages of the Talmud, and Judaism's rich folklore dances to life. Jennifer's contemporary stories challenge her listeners to respond to the issues confronting the Jewish community today. She uses storytelling as an educational tool to inspire children and adults to explore Judaism and their spirituality.
In 2014, Jennifer's original story, Binah and the Broken Pieces, was published in New Mitzvah Stories for the Whole Family, edited by Goldie Milgram.
In 2012, Jennifer's original story, Rina and the Exodus, was published in Mitzvah Stories: Seeds for Inspiration, edited by Goldie Milgram. Mitzvah Stories was named a finalist in the "Education and Identity" category of the National Jewish Book Award.
Jennifer's poetry has appeared on the Jewish Women's Archive blog, the Women of the Wall website, and the Philadelphia Jewish Voice blog. Four of her Torah commentaries were published in the Baltimore Jewish Times in the spring and summer of 2013.
Jennifer facilitated the Storytelling Teacher Training project at Krieger Schechter Day School, Goldsmith Early Childhood Learning Center, and Chizuk Amuno Congregation. She has mentored middle school, lower school, pre-school and adult educators as part of this project. Jennifer recently facilitated teacher training sessions for AIMS (American Independent Schools of Maryland), and for teachers in Carroll County and Baltimore County.
Jennifer trained employees and volunteers as part of the Storytelling Leadership Table at the International Refugee Committee's Baltimore and Silver Spring offices in 2011-2012.
From 2009-2012, she facilitated the Student Immigrant Stories project at Patterson High School. In the SIS project, sponsored by the Jewish Museum of Maryland, Jennifer taught ESOL students how to tell stories about their immigration experience. Jennifer's SIS students have performed at the Visionary Arts Museum, the Walters Art Gallery, Baltimore Hebrew Congregation, St. Mark's on the Hill Church, and for the Lutheran Immigration and Refugee Committee's national conference.
Jennifer's performance and workshop venues include: St. Mary's College of Maryland, Goucher College, LimmudFest, Gilman School, Garrison Forest School, University of Maryland Alumni Association, Beth Israel Congregation, B'nai Israel Congregation, Chizuk Amuno Congregation, the Darrel Friedman Institute, the University of Baltimore School of Law, and Krieger Schechter Day School in Maryland; the Center for Jewish History, the Jewish Education Project, and Stern College in New York City; NewCAJE Jewish Education conferences in New Jersey, North Carolina, and Boston; Adas Israel Congregation in Washington, D.C.; Mainline Reform Temple, Camp Ramah and Capital Camps in Pennsylvania, Camp TEKO in Minneapolis, Camp Butwin in St. Paul  Arrowhead Center for the Arts in Grand Marais, MN; and Temple Sinai and B'nai Zion in El Paso, Texas.
Jennifer coaches students, teachers, school principals, and librarians, teaching them to use their intuition to turn their mental images into powerful stories. She uses her training as a certified InterPlay teacher to help her students trust in the story they are meant to tell. InterPlay is an active, creative way to unlock the wisdom of the body. InterPlay is a creative process for personal and community transformation. Through powerful, practical ideas and a system of practices rooted in storytelling, movement, song, and stillness, participants gain access to their own "body wisdom" – what gives them purpose and makes them fully alive. Jennifer leads InterPlay training sessions for teachers, camp staff members, and community leaders.
Jennifer began using storytelling to help students learn and perform stories of Holocaust survivors back in 2002 when she participated in the first "Compassionate Listening for Jewish-German Reconciliation" project, traveling to Germany with 14 other Jewish Americans to share stories with German participants. Since her return from Germany, Jennifer has shared "And We Listened," the story of her experience, with adult and teen audiences.
During the 2007 Baltimore Playwrights Festival, Jennifer received excellent reviews for her performance of Dorothy, the lead role in Almost Vermilion, a play about life in rural West Virginia in the 1950s. Later in 2007, Jennifer also performed this part and two others roles at the Kennedy Center's "Page to Stage" Festival.
After September 11, 2001, Jennifer interviewed Muslim-American children, college students, professors, and imams about their experiences in America before and after the terrorist attacks. She has performed her program Isaac and Ishmael, Jews and Muslims: Are We Our Brother's Keeper? for synagogues, middle schools, high schools, and colleges.
In May 2003, Jennifer served as the keynote speaker as she performed another original piece, Remembering our Dance, for the annual meeting of the Women's Department of the Associated: Jewish Federation of Baltimore.
The following summer Jennifer presented her workshop, Teachers Telling Tales at the National Storytelling Network's conference in Chicago.
In May 2004, Jennifer performed original family stories as the keynote speaker for the annual meeting of the United Jewish Fund and Council of St. Paul's Women's Division.
Jennifer served as a keynote speaker at the Baltimore Girl's Project annual conference in December 2000. She created and performed Emily, a dramatic performance for pre-teens and parents about a teenage girl struggling with body image, popularity, and self-esteem. The Answer is in Your Hands program is another of Jennifer's programs that deal with the issues of peer pressure and rejection in a Jewish context.
Jennifer loves to bring to life the women of Torah through her first-person stories of Sarah, Rachel, Miriam, Ruth, Esther, and others. She also tells family stories and stories about her experiences in Israel, as well as Jewish folktales.
From the fall of 1998 through the spring of 1999, Jennifer toured the western United States, telling stories in Jewish communities in California, Oregon, Washington and Colorado. A Baltimore native, Jennifer began her storytelling career in 1994 while living in St. Paul, Minnesota.